Posted By idyllic on September 3, 2012
Salam to all muslim..wish u all a blessed Hari Raya…
……………………………….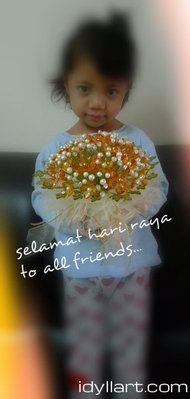 Alhamdulillah..we're here again to share with u the beauty of art…a crystal handbouquet for my dear YUS LIZA thank u dear!!
My dear ni specifically requested for a hb "yg akan nampak sejambak kembang"..so we add in NET around the hb so it will enhanced the blooming effect…alhamdulillah it turned out beautiful
ok lets share this beauty…
interestd just email us at man3sya@yahoo.com..insyaAllah will entertain all enquiries…tq
FROM TOP VIEW..
……………………………………………………………………………………