Posted By idyllic on June 16, 2011
~~~~~~~~~~~~~~~~~~~~~~~~~~~~~~~~~~~~~~~~~~~~~~~~~~~~~~~~~~~~~~~~~~~~~~~
ok bunga dulang kali ini designed ala2 CATTLEYA ORCHID….
bab yg paling mencabar n rumit is the centre part of the orchid flower…kind of cam calla lily gak nak membuatnye…lots of wire needed and dip pon banyak coz to make sure tadak lubang in between urat2 @ wire kat kelopak bunga tur….
however berbaloi lah ngan satisfaction bila tgk end result dier…..Alhamdulillah….
bila bunga dulang dah cantekk …ta payah da nak mengubah beria2 sgt…letak jer atas barang hantaran….lentok riuk kat jer btg2 kalu nak….
sangat sesuai utk sesape yg takde masa nak mengubah brg hantaran…letak je bunga dulang then it will transform ur simple hantaran to "WOW" insyaAllah…….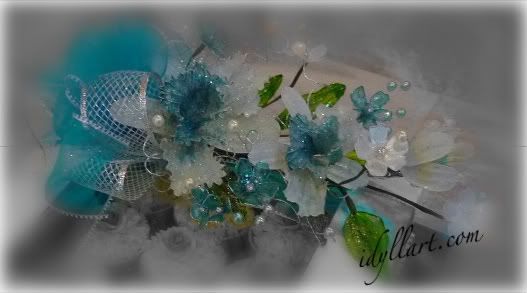 So camne cantek tak??? hehe
anyone interested, pls text me 019-9119464 or lebih senang email jer at man3sya@yahoo.com…..
~~~~~~~~~~~~~~~~~~~~~~~~~~~~~~~~~~~~~~~~~~~~~~~~~~~~~~~~~~~~~~~~~~~~~~~~~~~~~~