Posted By idyllic on June 13, 2011
~~~~~~~~~~~~~~~~~~~~~~~~~~~~~~~~~~~~~~~~~~~~~~~~~~~~~~~~~~~~~~~~~~~~~~~~~~~~
Alhamdulillah…semua dah beres hehe..
tq my dear puan seri and cousin hadi…for trusting me to do all these…hohoho….
ok first…lets share the beauty of "gubahan hantaran"…
everything was handmade dari alas dulang sampai semua deco item….cuma dulang je lah tak handmade kihkihkih…
brg hantaran semua digubah atas handmade bantal tomei… and deco dek setangkai bunga dip orchid and of course bunga kecik2 tur…pearls…ribbons….
ok jom tgk…
MAS KAHWIN & WANG HANTARAN…



AL-QURAN & TASBIH …
CINCIN & POTPOURRI…
HANDBAG & KASUT…
SKIN CARE & PARFUM….
<
PRETTY CUP CAKES…yummy!!!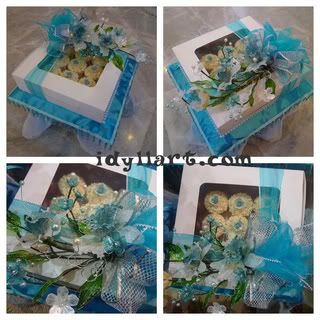 ~~~~~~~~~~~~~~~~~~~~~~~~~~~~~~~~~~~~~~~~~~~~~~~~~~~~~~~~~~~~~~~~~~~~~~~~~~~